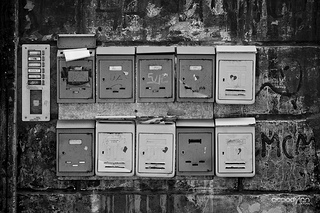 In den USA haben gerade zwei Mail-Provider zugemacht. Der Fall Lavabit ging breit durch die Presse: der Betreiber des Providers, den Edward Snowden benutzt hat, ist anscheinend von US-Sicherheitsbehörden juristisch unter Druck gesetzt worden, Nutzerdaten herauszugeben und darf gleichzeitig nicht darüber sprechen:
My Fellow Users,

I have been forced to make a difficult decision: to become complicit in crimes against the American people or walk away from nearly ten years of hard work by shutting down Lavabit. After significant soul searching, I have decided to suspend operations. …  (Ladar Levison, Lavabit)
Einen Tag später hat Silent Mail zugemacht. Auch nicht irgendein Mail-Provider, sondern der des Erfinders der Verschlüsselungssoftware PGP Phil Zimmermann
We see the writing the wall, and we have decided that it is best for us to shut down Silent Mail now. We have not received subpoenas, warrants, security letters, or anything else by any government, and this is why we are acting now. (Silent Circle)
Phil Zimmermann selber erklärte dazu
I wrote about these things over twenty years ago and when I first wrote PGP and technology extrapolations leading us to a future where the governments can listen to all our communications, can search through all our communications and do pattern recognition and study our traffic patterns. But I didn't think it would get this bad.
Das Phänomen, dass es in den USA legal ist, die Betroffenen von juristischem Maßnahmen dazu zu zwingen, nicht darüber zu reden, was ihnen angedroht wird, ist nicht neu. Getoppt wird es gerade noch dadurch, dass Levinson jetzt auch ein Strick daraus gedreht wird, dass er seine Firma zugemacht hat.
Seitdem haben sich viele gefragt, ob sie ihren (us-amerikanischen) Mail-Providern noch vertrauen können. Ich beschwere mich seit Jahren darüber, wenn ich Mails von Googlemail-Adressen bekomme und werde entsprechend lange gefragt, was ich als Alternative vorschlage. Leuten, die sich selbst als politische AktivistInnen verstehen, empfehle ich Riseup, ein politischer Provider, der inzwischen sehr viel genutzt wird. Aber können wir sicher sein, dass Riseup (genau wie alle anderen) nicht auch zum Schweigen gezwungen wird und unsere Daten direkt an den NSA weitergibt?
Ich fühle mich bei Riseup weiterhin gut aufgehoben (und habe trotzdem, auch schon länger, auch alternative Mailadressen). Riseup selber hat jetzt dies dazu geschrieben:
Q: Is Riseup working with the NSA?

A: We would rather stop being Riseup before we did that. We are not working with any government agency. We have never simply handed over information when requested, and for years have had a no logging policy. We have fought and won every time anyone has tried to get us to give up information. We have never turned over any user data to any third party, fourth party, fifth party or any party.

Q: But your servers are located in the U.S., doesn't that mean you have to install backdoors/monitoring/etc?

A: We have no control over our network providers, but we have physical control of our servers, they are not hosted "in the cloud." This gives us much more physical assurance of the security of our machines.  (…) Also, the US still has better laws for internet providers than in many other countries, including many places in Europe, where there are data retention laws requiring providers to keep logs. The US has no such requirement and it has been our policy for years to not keep any logs.

(…)
Riseup hatte seit den NSA-Leaks soviel Zulauf, dass sie einen neuen Server kaufen mussten. Für ein nicht-kommerzielles, spendenbasiertes Projekt keine Kleinigkeit. Falls ihr als Riseup nutzt oder das jetzt in Erwägung zieht: spendet. Spendet großzügig. Wie wichtig Angebote wie dieses sind, war noch nie so deutlich.
==>> Spenden für Riseup <<==
Eine ähnliche Erklärung gibt es auch von Autistici, dem italienischen Kollektiv, das u.a. diese Blogplattform noblogs.org hostet und das ebenfalls E-Mail anbietet:
…since Italy is a loyal subject of the American empire, we are pretty sure that if the U.S. authorities want to intrude into your privacy, the Italian allies will be absolutely ready to give them a hand. So please don't simply assume that since our servers are not based in the U.S.A. we can protect you from the NSA more than an American provider. This is not true at all!
Autistici vergibt aktuell keine Mail-Adressen mehr, weil sie den Ansturm nicht bewältigen können. Auch hier: bitte spendet für Autistici.
Last but not least merkte kürzlich jemand an, dass der Trend von großen kommerziellen US-Mailprovidern weg geht hin zu lokalen und/oder nicht-kommerziellen Anbietern. Diejenigen, die da schon lange sind, bewegen sich aber auch: weg von E-Mail hin zu verschlüsseltem Chat, etwa per Jabber. Denn was nirgends dokumentiert wird, kann auch schlechter überwacht werden. Das sollten auch alle mal probieren, die gern mal eben schnell per Twitter DM oder Facebook-Chat was besprechen wollen. Zum Chatten braucht Ihr nur einen Jabber-Account, dazu einen Client (Programm), der das kann, und wenn das nebenbei läuft, ist es genauso unkompliziert wie die anderen.
Jabber zu verschlüsseln ist übrigens viel einfacher als Mail-Verschlüsselung..
Foto: cicciodylan via photopin BY-NC-ND-Lizenz