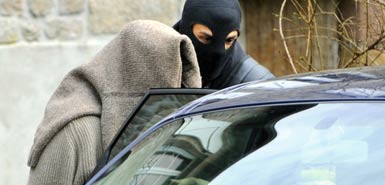 Dieser Text von Giorgio Agamben erschien am 19.11. in Libération. Update: jetzt auch auf deutsch.
"In Italy, trains are often late, but so far no one has dreamed of accusing the national railway of terrorism."
Mehr u.a. bei Indymedia New York City Anarchist arrest sweep in France (viele  weiterführende Links) und im Cargo Blog Palling Around With Terrorists:
Das klingt fast wie aus Ulrich Peltzers Roman "Teil der Lösung": Die junge Schauspielerin Aria Thomas wurde am 11. November wegen  Terrorismusverdachts inhaftiert (und inzwischen wieder entlassen).
Es gibt, vorläufig nur französisch(?) einen "Offenen Brief der Eltern der neun am 11. November Festgenommenen".
An was erinnert mich das alles? Jetzt wirklich Agamben:
TERRORISM OR TRAGICOMEDY?
On the morning of November 11, 150 police officers, most of which belonged to the anti-terrorist brigades, surrounded a village of 350 inhabitants on the Millevaches plateau, before raiding a farm in order to arrest nine young people (who ran the local grocery store and tried to revive the cultural life of the village). Four days later, these nine people were sent before an anti-terrorist judge and "accused of criminal conspiracy with terrorist intentions." The newspapers reported that the Ministry of the Interior and the Secretary of State "had congratulated local and state police for their diligence." Everything is in order, or so it would appear. But let's try to examine the facts a little more closely and grasp the reasons and the results of this "diligence."